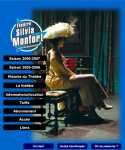 Exceptionally today, I shall write in English!
Well, the point is to always surprise you, isn't it? For those of you willing to improve their English (AND spend a good time), and for those of you who naturally speak English (AND looking for a good place to have a good time), I happen to have a little something to suggest. What about going to the theatre one of these days, huh? As a matter of fact, the Fifteenth Arrondissement harbours a very nice theatre whose name is
Théâtre Silvia Monfort
; and it is located near the
Parc Georges Brassens
, which some of you out there probably just adore! And what about the shows then? Well, from the 23rd of January 2007 to the 10th of February 2007, you will be able to see
Frankenstein
(in the flesh, if I may say) and the classic
The Importance of Being Earnest
(both plays will be performed alternately.) Please note that the original plays have specially been adapted for the French audience, but still, there are not so many places in Paris where you can see plays in English, are there? Well, you may know the
Sudden Theatre
, but it is not bad to change sometimes... And you should know that the
Théâtre Silvia Monfort
is one of the most comfortable theatres in Paris. Obviously, I specially recommand to see
The Importance of Being Earnest
, which is a real masterpiece of British humour and wit.
Of course, if you want to see Frankenstein, and for more general information about the Theatre, its location, its programme, its prices and much more, you can visit their beautiful (and musical!)
Website here
. Should you need more details about the troupe, feel free to have a look at their
Website here
. Oh, and one more thing: The
Theatre Silvia Monfort
will be reachable with the brand new "Tramway T3" (the stop will be called "Brancion"), so you can even kill two birds with one stone : spend a good time in the company of Mary Shelley or Oscar Wilde AND try the new tram!
What more could you possibly ask?